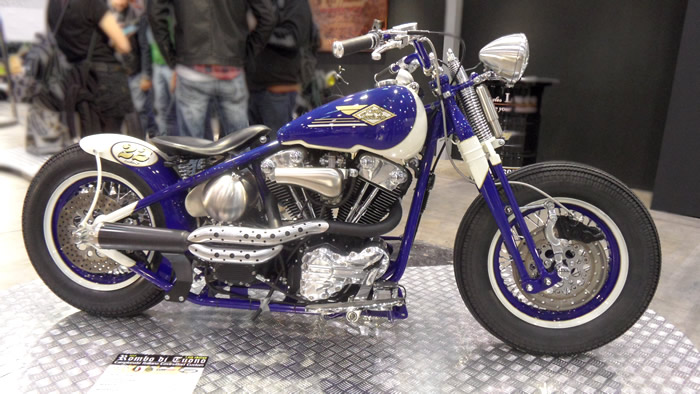 Fotografata qualche mese fa al Rombo di Tuono, dove era una delle custom più ammirate questa Softail chiamate LUDWIG 22 by Gallery Motorcycles.
Del resto Gallery Motorcycles non sbaglia un colpo e presenta spesso custom particolari o special originali, come la Model J (guarda qui) che è stata best of Show. Realizzata su base Softail Springer del 1995, di cui come si vede ora rimane molto poco della moto originale, probabilmente solo la forcella e poco altro.
Telaio Santee rigido con abbinata una sella in cuoio Police con molle come vuole lo stile bobber puro, colorazione bicolore by Spray Art con un blu forse troppo diffuso, nel senso che non prediligo molto anche il telaio e manubrio verniciato come il resto della moto a meno che non sia nero, credo alla lunga stanchi un po. Ruote 16" gemellate tozze invece del 21 all'anteriore con gomme Shinko E270, motore che ricorda lo stile KnuckleHead anche se stona un po perchè si vede che non è l'originale. Nel complesso gran bel lavoro.
English version: Photographed a few months ago at Thombo Rombo where one of the most admired custom was this Softail called LUDWIG 22 by Gallery Motorcycles. Moreover Gallery Motorcycles does not mistake a shot and often has custom special or original specials, such as Model J (see here) which was best of Show. Made from Softail Springer based in 1995, which as you can see, very little remains of the original bike, probably just the fork and little else. Rigid Santee chassis with a Polished Leather Saddle with soft springs as it wants pure bobber style, two-tone color by Spray Art with a blue perhaps too widespread, in the sense that it does not even much prefer the painted frame and handlebar like the rest of the bike less That is not black, I think the long tired a bit. Wheels 16 "twin tires instead of 21 on the front with tires Shinko E270, a motor that remembers the KnuckleHead style even if it stinks a bit because it is seen that it is not the original. Overall good job.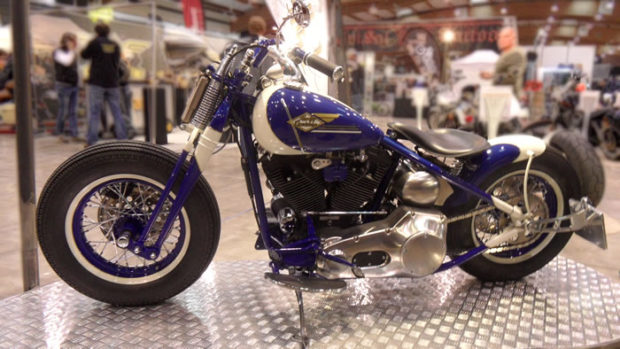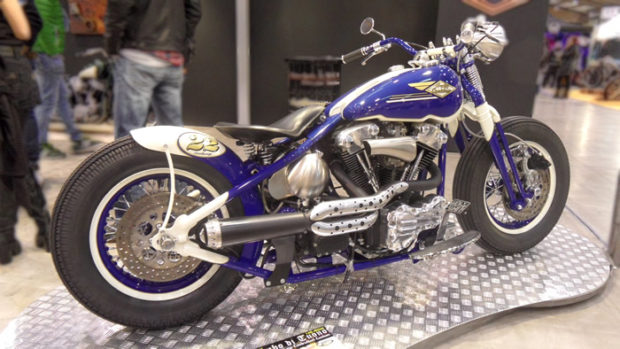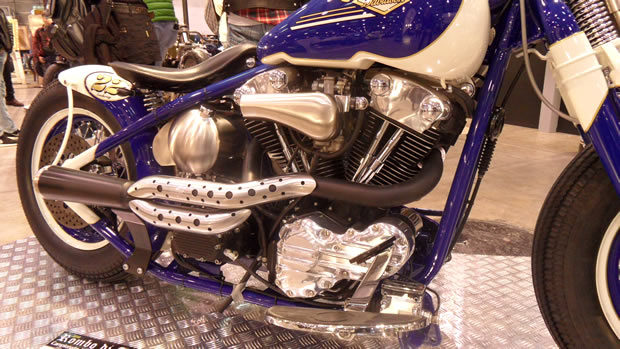 Blog Bobber Harley Davidson Moto Prima pagina Special Gallery Motorcycles, Softail LUDWIG 22