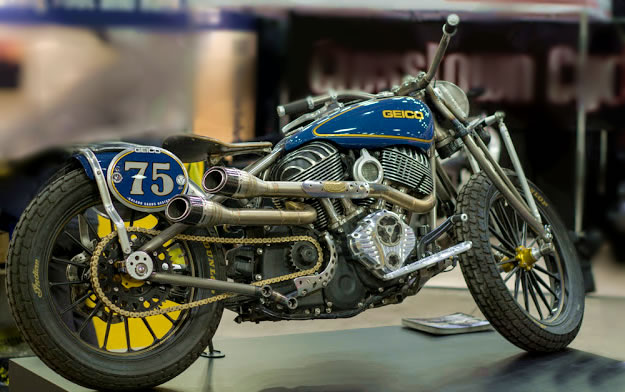 Una certezza nel mondo custom, un mito ormai consolidato è il marchio RSD e il suo fondatore Roland Sands. Abbiamo visto diverse sue special e lavori e ogni volta si impara qualcosa di nuovo guardando le sue creazioni.
In questo caso ammiriamo la RSD GEICO Chief Racer su base Indian Chief, qui trasformata completamente in un Racer Tracker. Realizzata in collaborazione con Geico, questa special debutterà a Sturgis al Buffalo Chip.
Motore assolutamente Indian da 111, incastonato in un telaio RSD cromo-molibdeno, cerchi flat track RSD, serbatoio bellissimo realizzato appositamente per questa moto, freni RSD e Lloyd Brothers Motorsports, sull'anteriore è stato omesso il freno come vuole la tradizione racer, ammortizzatore anteriore a balestra Fox DHX Shox, strano ma sempre affascinante. Come sempre molti i pezzi speciali utilizzati per le sue special ottenendo così un risultato che accoppia sia l'aspetto estetico che l'utilizzo reale della moto. Questa special realizzata per un grande evento è sia una vetrina per i vari componenti Roland Sands Design ma anche una racer per correre realmente sulle piste Tracker.
English version: A certainty in the custom world, is a myth which has become the trademark RSD and its founder Roland Sands. We saw several of his works and special and every time you learn something new watching his creations. Here we admire the RSD GEICO Chief Racer based Indian Chief, here transformed into a completely Racer Tracker. Produced in cooperation with Geico, this special will debut in the Sturgis Buffalo Chip. Indian motor absolutely 111, set in a frame RSD chromium-molybdenum, circles flat track RSD, beautiful tank made specifically for this bike, brakes RSD and Lloyd Brothers Motorsports, was omitted on the front brake as tradition racer, shock Front leaf Fox Shox DHX, strange but always fascinating. As always many special pieces used for its special thus obtaining a result which couples both the visual aspect that the actual use of the bike. This special made for a great event is a showcase for the various components Roland Sands Design but also a racer for racing on the slopes really Tracker.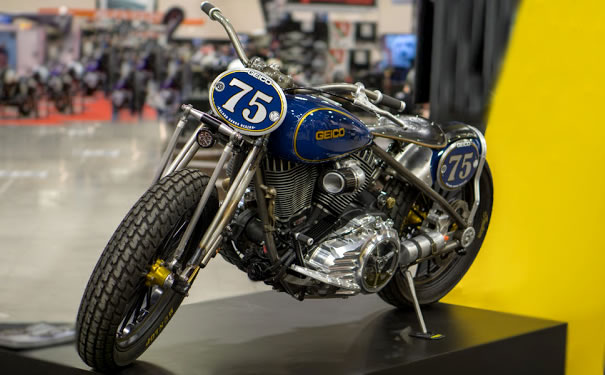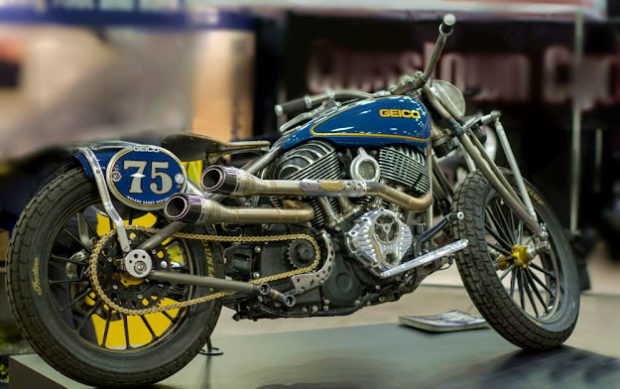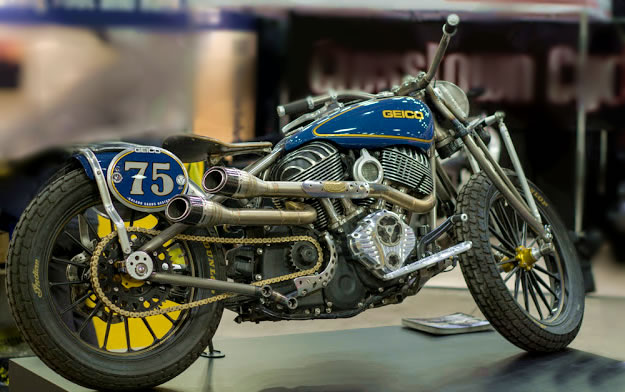 Blog Bobber Flat Tracker Indian Mondo Kustom Moto Prima pagina Special Flat Track, Geico, indian chief, Roland Sands Design, RSD GEICO, Sturgis