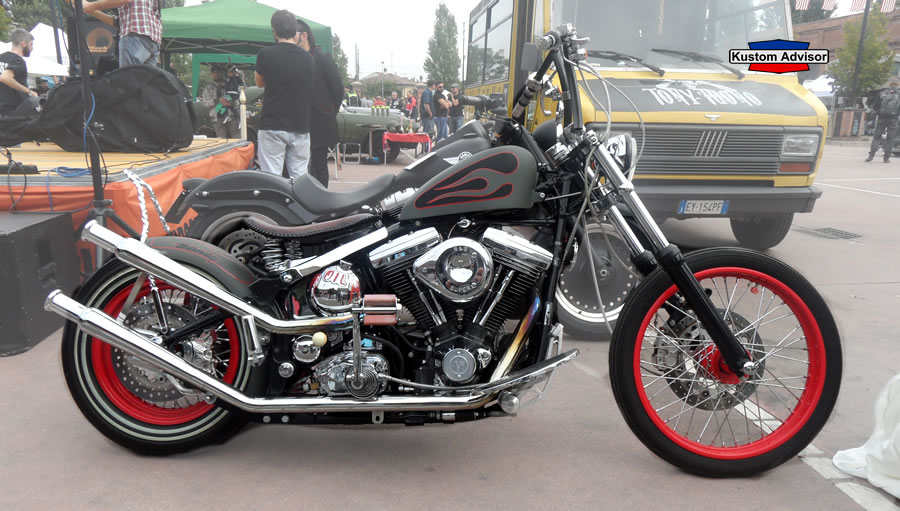 Ogni anno ho il piacere di fare un giro all'American Days organizzato dello Unic Bikers Bar a Vanzago, c'è sempre qualche bel mezzo da ammirare quest'anno tra le varie osservate c'è questo softail che appartiene a Gerry il boss dello Unic Bikers Bar, e la sua bike si chiama MotherShip.
Gran bel lavoro su questo Softail ormai irriconoscibile viste le tante modifiche apportate, stile Kustom Chopper che si addice benissimo allo stile del suo proprietario. Sella personalizzata col nome del locale, nuovo manubrio Ape Hanger, cerchi verniciati di rosso, molto cool gli scarichi vintage obliqui, e infine ottimo lavoro realizzato dal famoso Cisko con la sua verniciatura grigio opaco vintage e il suo inconfondibile pinstriping.
Vi consiglio a tutti l'anno prossimo di fare un giro all'American Days a Vanzago, così potrete apprezzare dal vivo questa moto e tante altre, ma soprattutto divertirvi in compagnia di tanti bikers.
English version: Every year I have the pleasure of a ride Americana organized Days of Unic Bikers Bar in Vanzago, there is always some middle to admire this year between the various observed there this softail that belongs to the boss Gerry of Unic bikers Bar, and his bike is called Mothership. Great job on this Softail now unrecognizable with so many changes, Kustom Chopper style that befits the style of its owner. Custom saddle with the name of, new Ape Hanger handlebars, wheels painted in red, very cool vintage oblique discharges, and finally excellent work done by the famous Cisko with its dull gray vintage painting and his distinctive pinstriping. I recommend to all of next year to tour the American Days in Vanzago, so you can enjoy live this bike and many others, but above all have fun in the company of many bikers.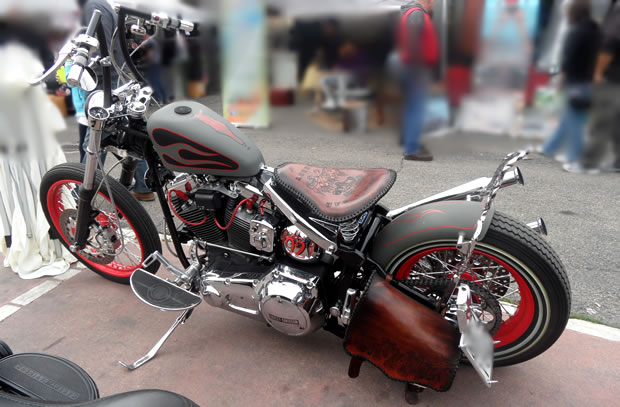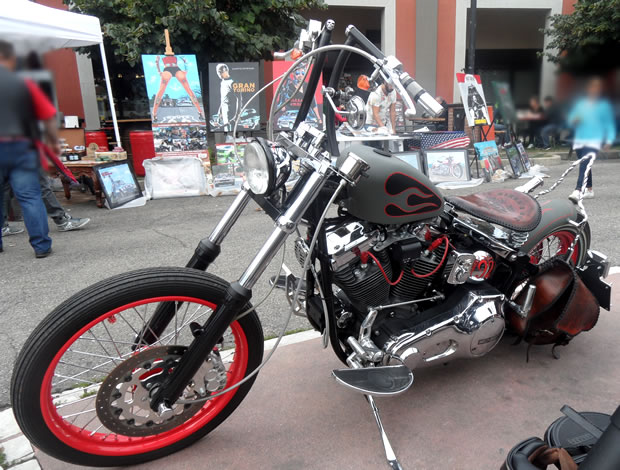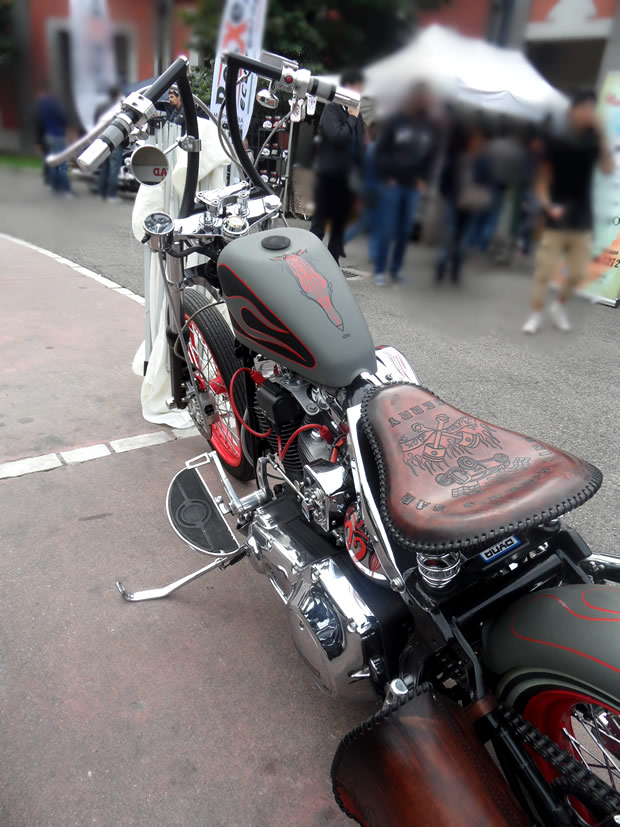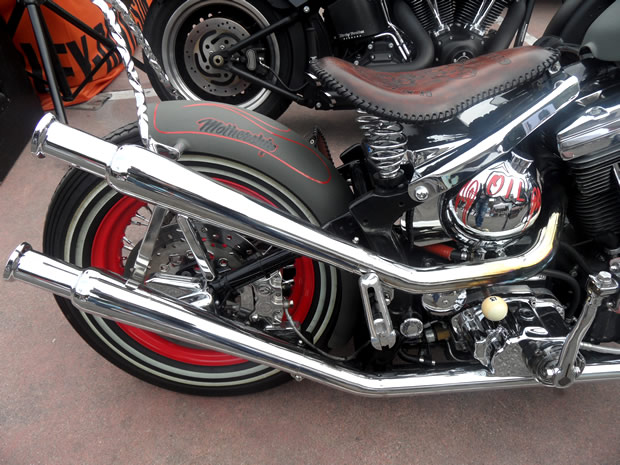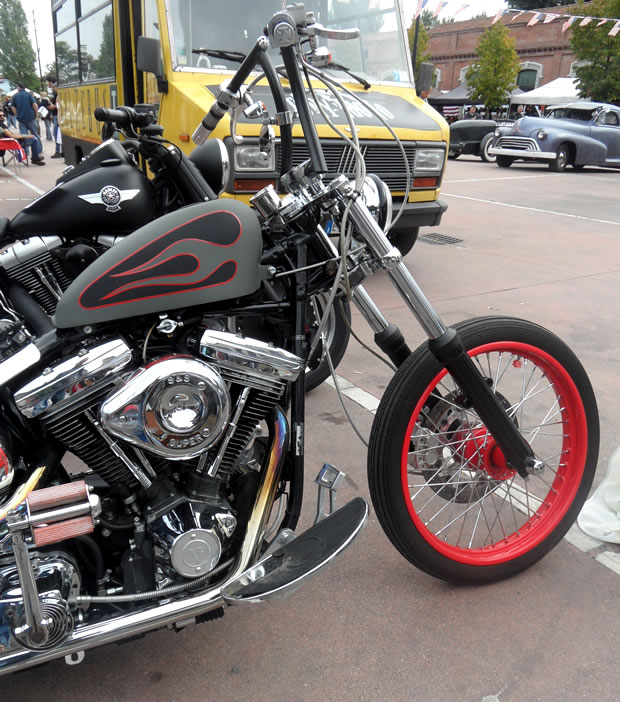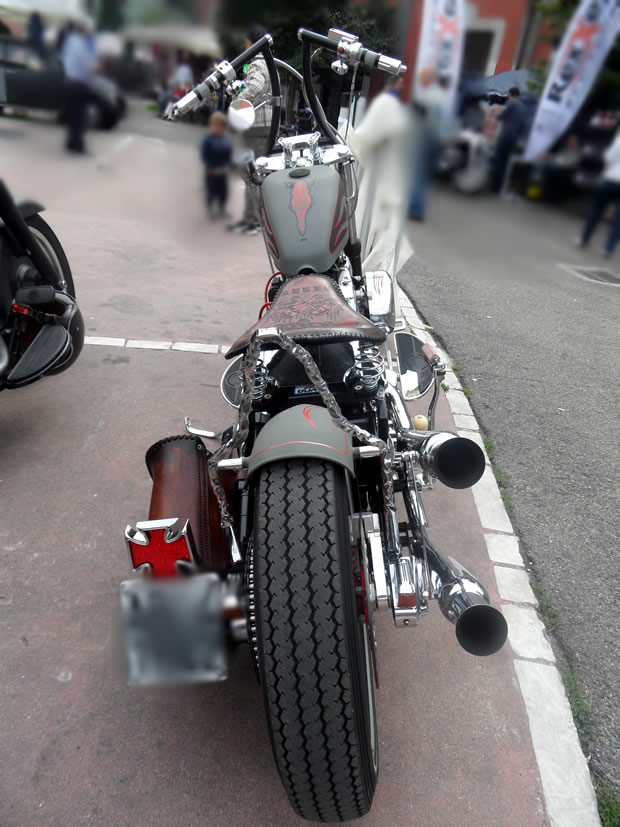 Blog Bobber Chopper Harley Davidson Kustom Kulture Mondo Kustom Moto Prima pagina Special kustom style, MotherShip, Unic Bikers Bar, vanzago