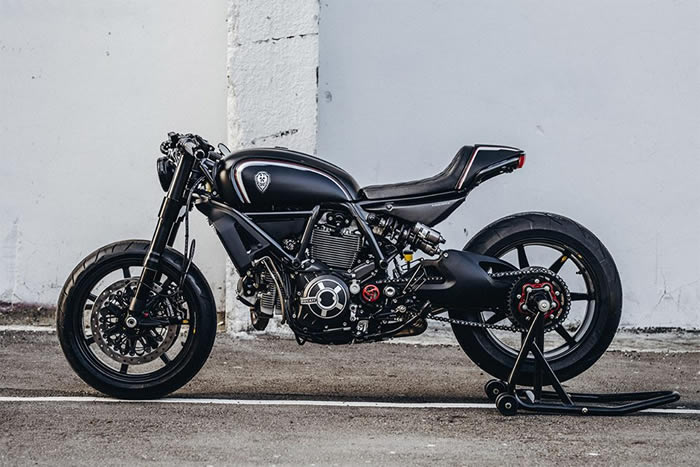 Oggi ammiriamo questa splendida Jab Launcher ricavata da un'irriconoscibile Ducati Scrambler e modificata dal mitico Winston Yeh di Rough Crafts.
Incontrai Winston 3 anni fa a Verona al Motor Bike Expo e mi sembrò subito un ragazzo competente e che avrebbe fatto strada e infatti da allora ha dimostrato sempre più le sue capacità attraverso le special molto apprezzate nel mondo. Qui vediamo uno dei suoi ultimi lavori realizzata su una Ducati Scrambler, si riconosce a prima vistta che è una Rough Crafts, da alcune caratteristiche e dalla tipica colorazione con contrasto di nero lucido e opaco.
Devo dire che una delle migliori custom su base Scrambler che ho visto in giro, molto sono i pezzi a marchio Rough Crafts usati per rendere la Scrambler ancora più leggera, pulita e resistente. Balzano all'occhio le robuste forcelle della Marzocchi di una Panigale 1199 abbinate a pinze triple di CNC Racing. Belle le ruote BST in carbonio da 17 pollici e sul lato sinistro spicca il forcellone mono di una Monster 1100, scarico HP Corse GP07. Gran lavoro Winston!
English version: Today we admire this beautiful Jab Launcher created by an unrecognizable Ducati Scrambler and modified by the legendary Winston Yeh of Rough Crafts. I met Winston 3 years ago in Verona at the Motor Bike Expo and he immediately seemed to me a competent guy who would have made his way and in fact since then he has increasingly demonstrated his skills through the very popular specials in the world. Here we see one of his latest works made on a Ducati Scrambler, it is recognized at first sight that it is a Rough Crafts, some features and the typical color with contrast of shiny black and opaque. I have to say that one of the best Scrambler-based custom I've seen around, the Rough Crafts brand pieces used to make the Scrambler even lighter, cleaner and more durable. The robust Marzocchi forks of a Panigale 1199 matched with CNC Racing triple tongs. The 17-inch carbon BST wheels are beautiful and on the left side the mono-arm of a Monster 1100 stands out, HP Corse GP07 exhaust. Great job Winston!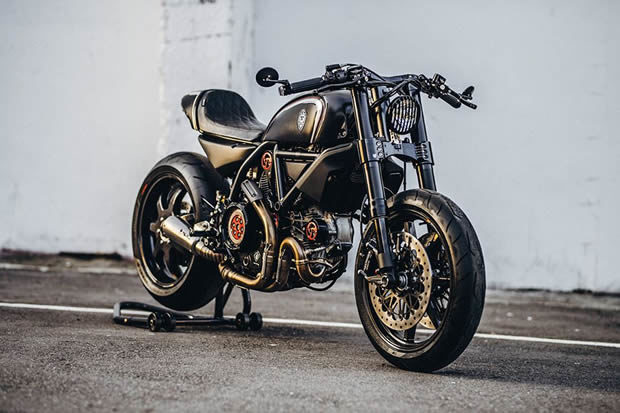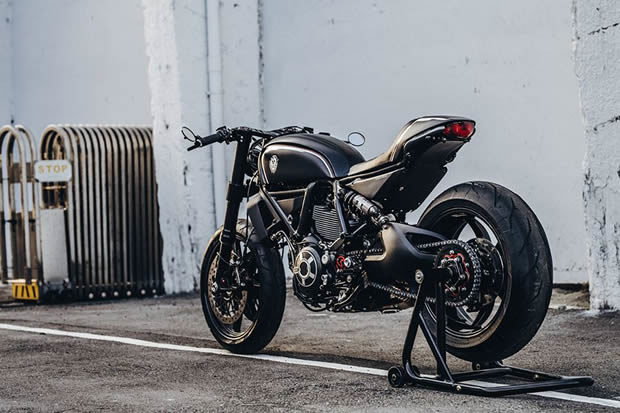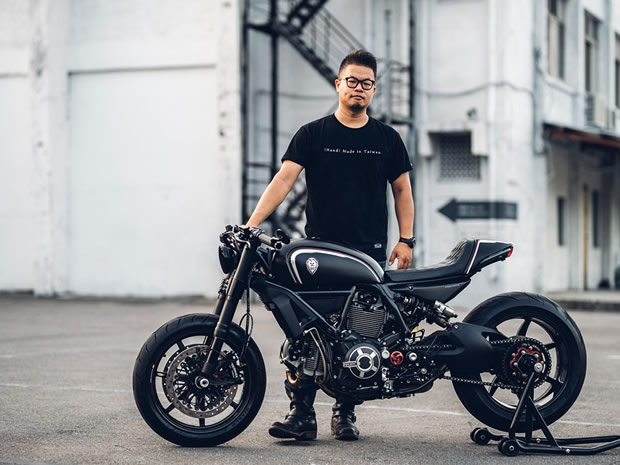 Bobber Brat Cafè Racer Ducati Moto Prima pagina Special cafè racer, ducati monster, Jab Launcher, marzocchi, monster 1100, ROUGH CRAFTS, winston yeh