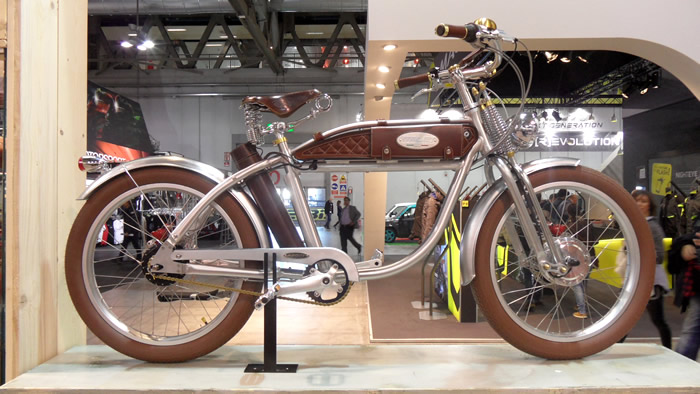 Non è una moto questa che vi mostro oggi ma devo dire che quando l'ho vista all'EICMA quest'anno mi ha colpito per la cura dei dettagli e lo stile classico che ricorda molto le prime moto degli inizi del 900.
E' la Italjet Ascot una bici elettrica con pedalata assistita realizzata in Italia con pezzi speciali e a mano, il cuore di questa 2 ruote è nella parte centrale che simula un rudimentale serbatoio. Forcella stile Spinger gomme flat e struttura completamente in alluminio, con gomme fat che danno quel tocco classico.
Peso di 28 kg, che arriva ad una velocità di 25 km/h non male soprattutto per un'autonomia di 60 km, prezzo 4000 euro circa. Il mondo delle e-bike è in pieno sviluppo e hanno sempre più mercato e questa Ascot sicuramente ne occuperà una parte rilevante.
English version: It is a bike that I show you today, but I must say that when I saw her at EICMA this year was impressive attention to detail and classic style reminiscent of the very first bikes from the early 900. And 'the Italjet Ascot an electric bike with pedal assistance made in Italy with special pieces and hand, the heart of this second wheel is in the central part that simulates a rudimentary tank. Fork style Spinger flat tires and structure entirely made of aluminum, with fat tires that give that classic touch. Weight of 28 kg, which reaches a speed of 25 km / h is not bad especially for a range of 60 km, price 4000 € approx. The world of e-bikes is booming and they have more and more market Ascot and this surely will occupy an important role.