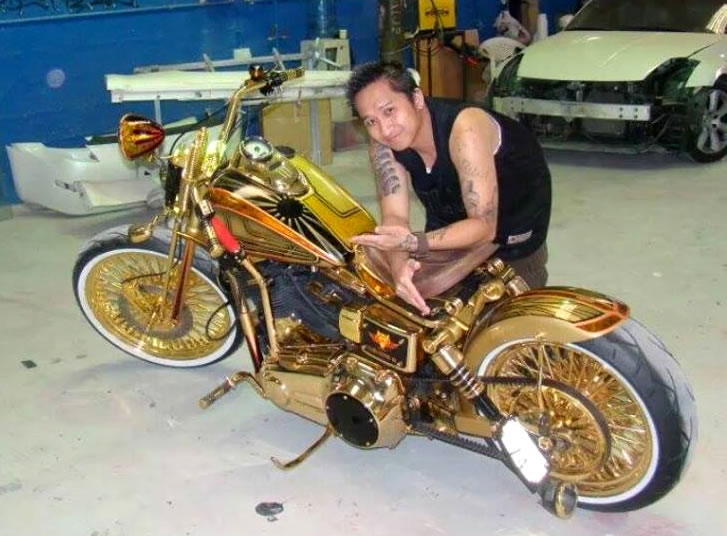 Ragazzi in questi anni i super ricchi sceicchi degli emirati, del Qatar e Dubai ci hanno abituato a spese folli e vizi di ogni genere per ostentare la loro ricchezza. Abbiamo visto auto di ogni genere d'oro e materie preziose, cellulari di diamanti, e ogni sorta di gioiello, e allora poteva forse mancare una Harley placcata oro? Certo che no…
Ed eccola qua questa splendida custom totalmente placcata oro con ottimi lavori di aerografia. Ovviamente il costo non è noto ma sicuramente folle. La scelta del paperone che si è fatto fare questa special non si discute, diciamo fatti suoi anche se mi fa un po storcere il naso per vari motivi. Mi resta solo da dire… beato lui.
English version: in recent years the super rich sheikhs of the Emirates and Qatar have accustomed to shopping sprees and vices of all kinds to flaunt their wealth. And then you could possibly miss a Harley gold plated? Of course not …
And here it is this beautiful custom fully gold plated with excellent work airbrushing. Obviously, the cost is not known but definitely crowds. Choosing the scrooge who was made to make this special is not discussed, say about his business even if it makes me a bit up their noses for various reasons. Let's just say … lucky him.