Dalla Toscana arriva questa splendida Harley Davidson Hi Tech Deuce realizzata dal nostro amico biker Luca Manni, creata anni fa con esperienza e grande lungimiranza grazie alla passione e alle idee di Luca. Apprezzata in tutto il mondo e pubblicata su varie riviste del settore.
Tra l'altro come vedete dalle foto sotto ha preceduto di anni la bella HD BreakOut CVO pro-street (di serie HD) che assomiglia molto nella linea e alcuni dettagli alla special di Luca. Cade subito l'occhio sul forcellone Moonline di Rebuffini Cycles che è stato realizzato specificamente per questa custom, studiato per accogliere un cerchio da 5,5 pollici, una puleggia GMA completo del disco freno con i fanalini integrati con gran effetto estetico.
Lavori ispirati da Luca e realizzati dalla Harley-Davidson di Viterbo che hanno trasformato questa FXSTD Softail Deuce del 2000. Tantissimi i dettagli che potremmo descrivere, faccio notare in particolare i cerchi Tempest della Performance Machine bellissimi, le sospensioni abbassate  White Bros, luci a LED, sella Badlander, pedane anodizzate OMP, e tanto altro. Potente e veloce con stile e una linea special!
English version: From Tuscany comes this wonderful Harley Davidson Hi Tech Deuce made by our friend biker Luca Manni, created years ago with great foresight and experience thanks to the passion and ideas of Luke. Among other things, as you can see from the photos below preceding years the beautiful HD BreakOut CVO pro-street (HD series) that looks very much in the line and some special details to Luke. Cade immediately on the eye Moonline swingarm by Rebuffini Cycles which has been manufactured specifically for this custom, designed to accommodate a 5.5-inch circle, a complete GMA pulley the brake disc with the taillights integrated with great aesthetic effect. Works inspired by Luke and produced by Harley-Davidson of Viterbo who have turned this FXSTD Softail Deuce of 2000. A lot of the details that we could describe, I note in particular the circles of Tempest Performance Machine beautiful, the White Brothers lowered suspension, LED lights , Badlander saddle, footrests anodized OMP, and much more. Powerful and fast with style and a line special!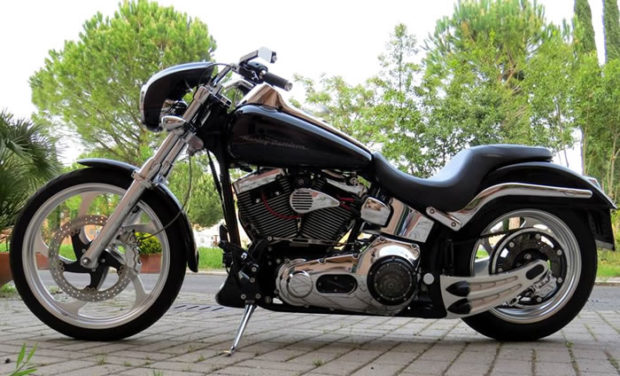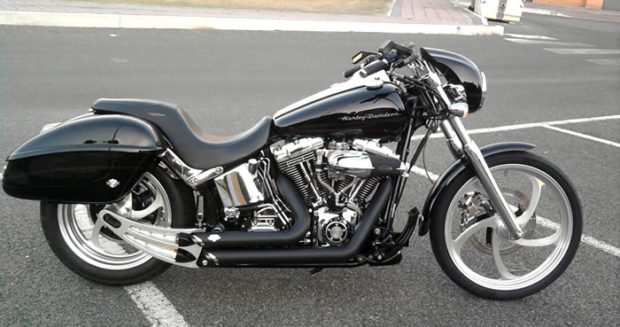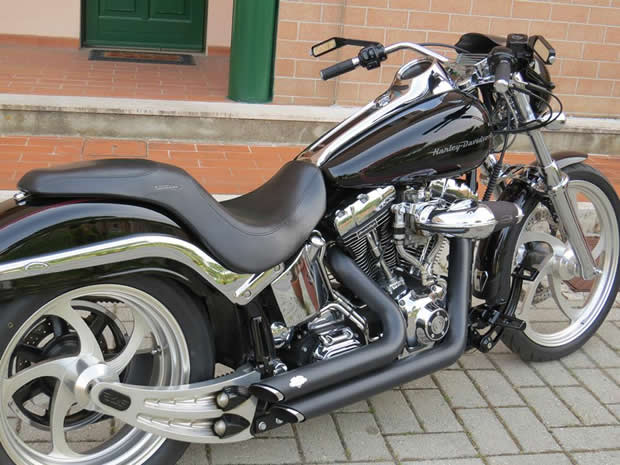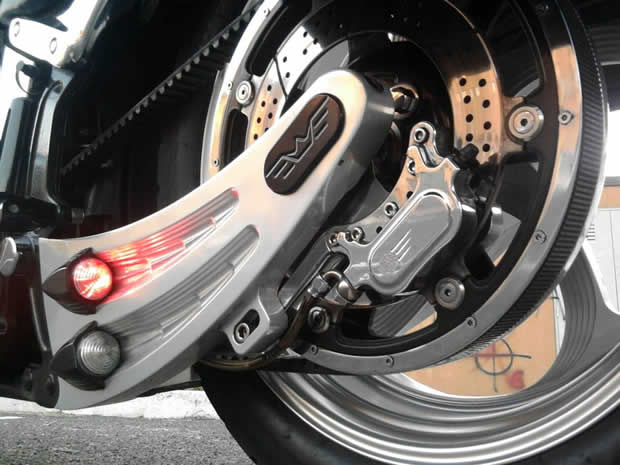 Blog Dragster Foto Harley Davidson Mondo Kustom Moto Special BreakOut CVO pro-street, harley davidson deuce, Hi Tec, luca manni