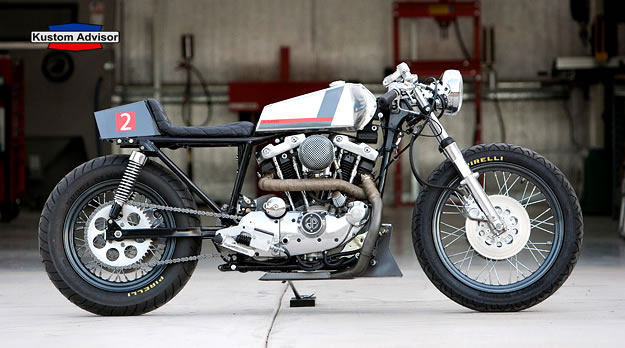 In questo caso i ragazzi di DP Customs giocano in casa perchè ancora una volta si sono basati su uno dei loro modelli prediletti la Harley Sportster Ironhead, di cui abbiamo visto già diverse loro special.
Qui si sono cimentati in uno stile Cafè Racer per un loro cliente Justin Del Prado amante del genere British che ha voluto modificare la sua Ironhead del 1980. Il serbatoio è preso da una moto icona degli anni 70 il mitico Maico, al quale si ispira il resto della carrozzeria della moto con la sua linea spigolosa quasi all'eccesso. Non è una linea che mi fa impazzire, ma tale è quel particolare stile anni 70.
Molti sono i pezzi realizzati direttamente da DP Customs, di cui la maggior parte neanche si notano perchè nascosti o facenti parte del motore, in particolare gli scarichi 2 in 1 studiati appositamente per dare la giusta compressione. Un'altro ottimo lavoro!
English version: In this case the children of DP Customs playing at home because once again they are based on one of their favorite models Harley Sportster Ironhead, which we have already seen their various special. Here you have ventured into a style Cafe Racer for their client Justin Del Prado lover of British who wanted to change his Ironhead 1980. The reservoir is taken from a motorcycle icon of the 70s the legendary Maico, which is inspired by the rest of the body of the bike with its angular lines almost to a fault. It is not a line that drives me crazy, but this is 70 years that particular style. Many are the pieces made directly from DP Customs, of which the majority are noticed because even hidden or forming part of the engine, in particular discharges 2 in 1 specifically designed to give the proper compression. Another great job!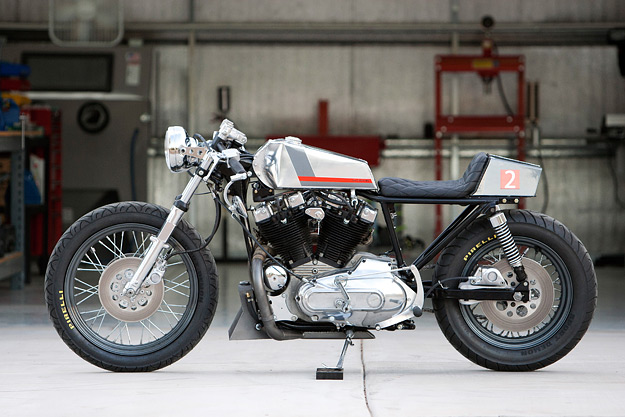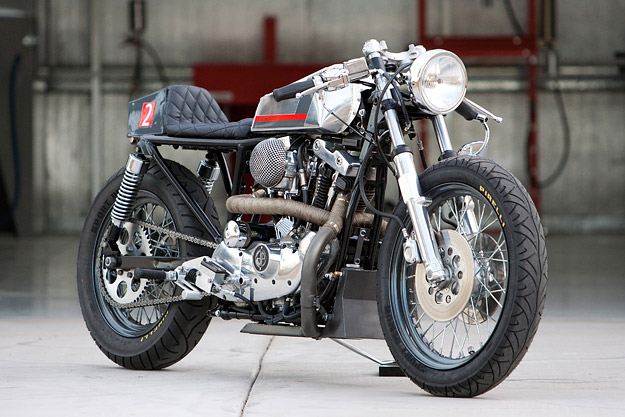 Blog Cafè Racer Harley Davidson Mondo Kustom Moto Prima pagina Special DP Customs, Harley Davidson Cafe Racer, ironhead