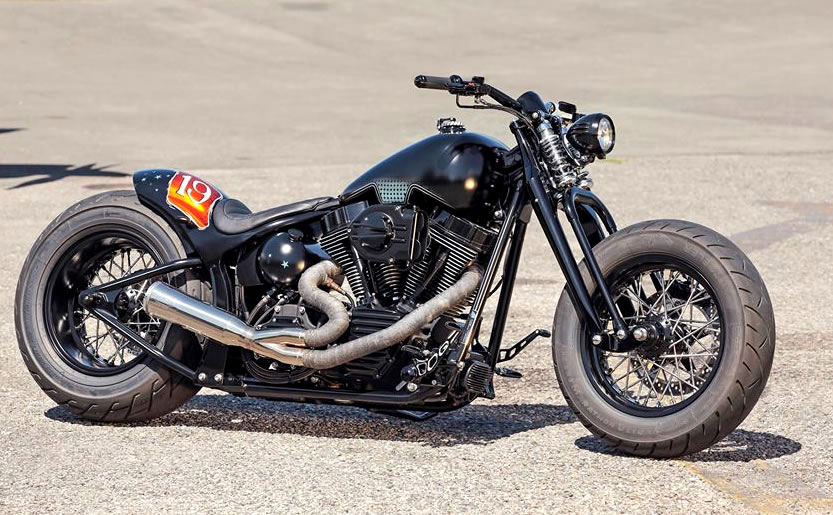 Dalla Svizzera eccovi una Softail chiamata Suzie Q. customizzata con uno stile teutonico che abbiamo visto anche in altre special del nord europa.
Un bel bobber è l'ultima fatica dei ragazzi di Vida Loca Choppers, con tratti racing che trapassano lo stile puro vintage per sconfinare nel post moderno, con la Springer tutta particolare e manubrio tracker, scarico racing artigianale, un codino che lascia vedere tutto il pneumatico 280 Metzeler e un 120 sull'anteriore.
Particolare il serbatoio con gli incavi per le testate, un'accorgimento che riporta in parte allo stile delle racing anni 30, nell'insieme una special che riprende in pieno lo stile di altre loro special, che vedremo ancora nei prossimi post.
English version: From Switzerland here's a Softail called Suzie Q. customized with a Teutonic style that we have seen in other especially in northern Europe. Quite a bobber is the latest effort of the boys Vida Loca Choppers, with traits that pierce racing style pure vintage to intrude in the post modern, with very particular and Springer handlebar tracker, racing exhaust crafts, a tail that lets you see everything Metzeler tire 280 and a 120 on the front. Especially the tank with recesses for the heads, un'accorgimento showing in part to the style of racing 30 years, as a whole a special that takes the individuality of their other special, that we will see again in the next post.