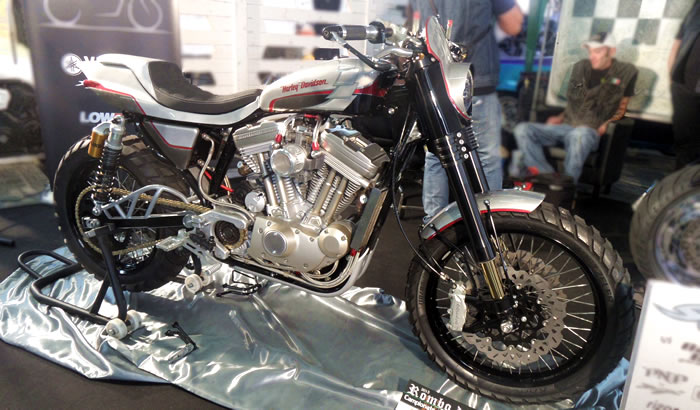 L'ho vista nel 2015 al Rombo di Tuono e devo ammettere che ha subito attratto la mia attenzione e dalla folla che ammirava la splendida Super Scrambler direi che è piaciuata a molti visitatori della fiera.
Realizzata su base Sporty 883 da Lorenzo Nisi cioè mr. Bad Boys Garage, è un gran lavoro che ha stravolto la struttura originale della moto, completamente rifatta e dotata di pezzi di pregio delle migliori marche tra cui Ohlins, Rizoma, Brembo, Jonich e Metzeler, bellissimo lo scarico Hp Corse come vedete nella foto sotto in dettaglio. In pratica quasi solo il motore è quello originale anche se ridimensionato con apposito kit
Come si vede dalle foto è molto curata nei dettagli e quasi dispiace usarla per andare in off road, sarebbe un peccato rovinarla. Bella tanto che ha visto in quell'occasione il premio Best Scrambler e dopo allora ha ricevuto altri riconoscimenti e tanti servizi su varie riviste.
English version: I saw her in 2015 at Thunderclap and I must admit I was immediately attracted my attention and crowds that he admired the splendid Super Scrambler'd say it piaciuata many visitors to the fair. Made of 883 basis Sporty Lorenzo Nisi that mr. Bad Boys Garage, is a great work that has upset the original structure of the bike, completely rebuilt and equipped with quality pieces from the best brands including Ohlins, Rhizome, Brembo, Jonich and Metzeler, beautiful the Hp Racing exhaust as you see in the picture below in detail. In practice almost only the engine is original even if resized with special kit. As you can see from the photos is much attention to detail and use it almost sorry to go off road, it would be a shame to ruin it. Pretty much that he saw there the Best Scrambler prize and after then he has received many other awards and services in various magazines.