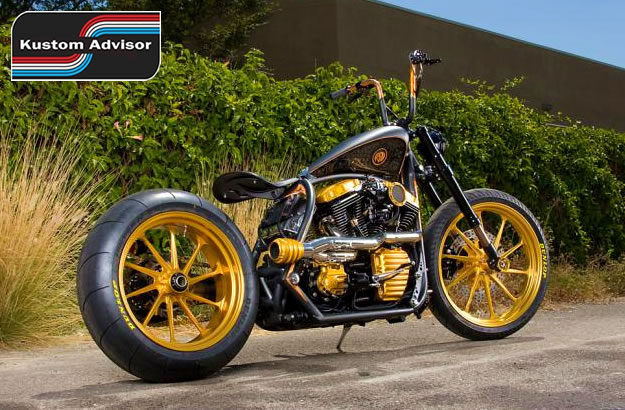 Una delle special del grande Roland Sands realizzata ormai 4 anni fa ma sempre attualissima, motore Harley 95 ci, un giusto compromesso al quale sono state modificate delle parti in pregiato ottone.
L'obiettivo era quello di realizzare un bel Chopper ma tenendo sempre presente lo stile RSD cioè le corse e le prestazioni e in questa Black Beauty sono presenti entrambi con classe ed esperienza. Per questo ha mantenuto il telaio Harley ma ha inserito forcelle rovesciate, ruote leggere in lega dal catalogo RSD e un nuovo forcellone in modo che la moto può essere guidata con uno stile da corsa e con migliori prestazioni, pur restando il fatto che è sempre un chopper. Molti i pezzi presi dal catalogo RSD al quale è stato abbinato un colore nero satinato/lucido con inserti in ottone che fanno un contrasto perfetto e la rendono ancora più preziosa!
RSD è sempre un esempio per ogni customizer dal quale imparare e attinegere spunti per i propri lavori… Ottima questa Black Beauty!
English version: One of the great special Roland Sands now made four years ago but still very current, motor Harley 95 there, a fair compromise to which the parties have been changed in fine brass. The goal was to create a nice Chopper but always keeping in mind the style RSD ie racing and performance, and in this Black Beauty are both with class and experience. To this has kept the frame but Harley has entered reversed forks, alloy wheels read from the catalog RSD and a new swing arm so that the bike can be driven with a style and racing with the best performance, while remaining the fact that it is always a chopper. Many of the pieces taken from the catalog RSD which was paired with a black satin / polished brass inserts that make a perfect contrast and make it even more valuable! RSD is always an example for every customizer from which to learn and attinegere ideas for their work … Excellent this Black Beauty!