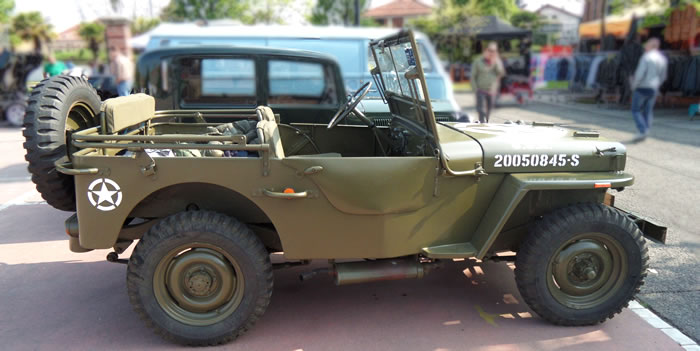 Ragazzi facciamo un tuffo nel passato, anni 40 quando nasceva in USa questa Jepp modello Willys per l'esercito americano. Hanno attraversato il nostro paese nella seconda metà degli anni 40, e qui ci sono rimaste quando l'esercito americano se n'è andato.
Ne vediamo molte in giro e spesso ristrutturate molto bene come quella che vediamo qui nelle foto. Motore Willys 442 da 2200 cc di circa 50 cv, che l'ha portata dal 41 anno di nascita fino ai giorni nostri come memoria dei tempi che furono.
Le Jeep Willys erano delle utility 4×4 costruite puramente per fini militari. Durante la seconda guerra mondiale gli Stati Uniti necessitavano di un mezzo da ricognizione leggero e versatile, in grado di trasportare velocemente attrezzature e persone su qualsiasi campo e superficie. Nell'ambito di questo progetto, la casa automobilistica Willys Overland Motors partecipò al bando dell'esercito americano, proponendo la MA, un prototipo leggero e versatile, molto spartano che piace e attira appassionati ancora oggi.
English version: Boys make a splash in the past 40 years when he was born in USa this Jepp Willys model for the US Army. They have crossed our country in the late '40s, and here are left when the US military is gone. We see a lot of fun and often very well restored as the one we see here in the photos. Motor Willys 442 2200 cc 50 hp, which led 41 years from birth to the present day as a reminder of times gone by. The Willys Jeep 4×4 utility were built purely for military purposes. During World War II the United States needed a medium to be lightweight and versatile reconnaissance, able to transport equipment and people quickly on any field and area. Under this project, the automaker Willys Overland Motors participated in the US Army announcement, offering the MA, a lightweight and versatile prototype, very basic they like and attracts fans even today.