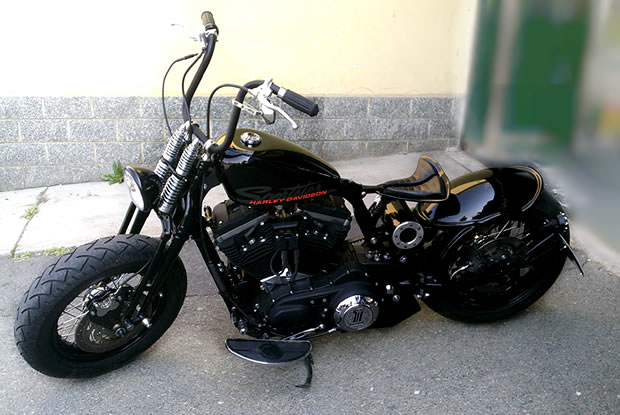 A volte può sembrare secondario o una parte come tante senza particolare importanza, ma invece il manubrio è molto importante e dovrebbe essere un dettaglio al quale ogni biker dovrebbe riservare molta attenzione sia per l'aspetto che da alla moto ma soprattutto perchè influisce molto sulla guida, sulla maneggevolezza della moto e sull'assetto e posizione di guida, inoltre non ultimo è il punto di congiunzione tra le nostre mani e la moto.
Un manubrio andrebbe scelto considerando diverse misure in particolare, larghezza, altezza e profondità e queste dovrebbero essere legate alla nostra corporatura e altezza, in teoria sulla stessa moto difficilmente lo stesso manubrio è ideale per persone di altezze diverse, quanto meno andrebbe regolato in base alla nostra postura, ma spesso non viene fatto e di fatto è il biker che si adatta al manubrio e non viceversa. Eccovi le caratteristiche principali che vedrete elencate quando osservate un manubrio:
Pull Back (distanza): è la piega, la curvatura, che intercorre tra le estremità del manubrio e il pilota. Un generoso pull back può eliminare l'eccessiva lontananza dai comandi, ottenendo così una guida più agile e snella.
Width (ampiezza): la larghezza tra le due estremità del manubrio; attenzione perché se troppo largo può rendere più complicate le manovre in curva.
Knurl Center (zigrinatura centrale): la distanza centrale tra le zigrinature del manubrio; la misura dovrebbe corrispondere alla dimensione dei riser per massimizzare la presa. Il diametro del manubrio può modificare sostanzialmente il look della moto e Harley-Davidson offre a catalogo diversi modelli che variano in dimensione da 1 pollice a 1-1/4 di diametro. La finitura è un fattore puramente estetico, ma per molti importante soprattutto se considerato il quantitativo di personalizzazioni e stili che contraddistinguono il mondo Harley-Davidson; le più apprezzate sono il classico cromo e il nero.
Nella scelta di un manubrio sono diversi i fattori che possono intervenire ma ognuno di essi determinerà lo stile e la posizione di guida:
Ape Hanger & Tallboy Bar: alto e ampio, il manubrio Ape Hanger & Tallboy regala il classico look "pugni al vento" e può offrire grande comfort ai rider con braccia lunghe.
Drag Bar: stretto, dritto, piatto e più aggressivo, il drag bar offre una posizione lineare dei gomiti e una postura molto naturale a mani e polsi. Per incrementare il comfort, questo manubrio può essere montato con riser dritti o curvi, minimizzando così la distanza dai comandi.
Pull Back: progettato per i motociclisti più minuti, questo manubrio sposta l'impugnatura verso l'alto e la fa arretrare in modo da ottenere una posizione di guida più ergonomica. Il Pull Back garantisce in generale una posizione di guida più rilassata ed eretta.
Wide Beach Bar: basso e ampio, il beach bar distende le braccia e regala ampio spazio tra pilota e presa; ideale per i motociclisti con braccia lunghe.
English version: Sometimes it may seem secondary or part as many no particular importance, but rather the handlebar is very important and should be a detail to which every biker should pay equal attention to the aspect of the bike but mainly because it has a great influence on driving , Motorcycle handling and set-up and driving position, also not least is the point between our hands and the bike. A dumbbell should be chosen considering several measures in particular, width, height and depth and these should be linked to our body size and height, in theory on the same bike handlebar is hardly the same for people of different heights, at least, should be adjusted according to our posture, but often do not and in fact is the rider that will fit handlebars and not vice versa. Here are the key features that you'll see listed when you look a dumbbell: 
Pull Back (distance): is the fold, the curvature, between the ends of the handlebar and the pilot. A generous pullback can eliminate excessive distance from the controls, resulting in a more agile and streamlined.
Width (amplitude): the width between the two ends of the handlebar; attention because if too wide may make it more complicated maneuver curves.
Knurl Center (knurled Central): the center distance between the serrations of the handlebar; the measure should correspond to the size of the riser to maximize the grip. The diameter of the handlebar can substantially change the look of the bike and Harley-Davidson offers a catalog different models ranging in size from 1 inch to 1-1 / 4 in diameter. The finish is a purely aesthetic factor, but for many important especially considering the amount of customization and styles that characterize the world Harley-Davidson; the most popular are the classic chrome and black.
In the selection of a handlebar are several factors that may intervene but each of them will determine the style and the driving position:
Ape Hanger Bar & Tallboy: high and wide, the handlebars Ape Hanger & Tallboy gives the classic look "fists in the wind" and can offer great comfort for riders with long arms.
Drag Bar: narrow, straight, flat and more aggressive, drag bars provides a linear position of the elbows and a very natural posture to hands and wrists. To increase comfort, the handlebar can be mounted with riser straight or curved, minimizing the distance from the controls.
Pull Back: it designed for motorcyclists more minutes, this handlebar moves the handle upwards and pushes back so as to obtain a driving position more ergonomic. The Pull Back guarantees generally a more relaxed riding position and erect.
Wide Beach Bar: low and wide, the beach bar stretches his arms and gives ample space between driver and taken; ideal for riders with long arms.