Vediamoci questa "Harper" la special by Krugger Motorcycle, motore Panhead e tante trovate particolari.
Fred Krugger ha da sempre la passione per le moto, in un certo senso ce l'ha nel sangue in quanto entrambi i genitori erano molto appassionati di sport motoristici. Ha avuto la sua prima moto quando aveva appena 5 anni (Honda CR50 Elsinor) e corse per molti anni.
Fred iniziò a costruire moto personalizzate nel 2002 con la sua prima moto 'The Racer'. Krugger Motorcycle tirò fuori tre terzi posti ai Campionati del Mondo AMD (2004, 2005,2009). In questa pagina vediamo una delle sue creazioni, basata su motore PanHead, forcella springer per una linea generale assolutamente old school e classica, telaio rigido con un buon diametro e gomma posteriore larga contrariamente alle moto storiche originali. Colore verde vintage, e targa portanumero anteriore che ricorda molto le moto si flat track degli anni 50. Vediamoci le foto qui sotto…
English version: Meet this "Harper" by the special Krugger Motorcycle, Panhead engine and find many details. Fred Krugger has always had a passion for motorcycles, in a sense it's in the blood because both parents were very passionate about motorsport. He got his first bike when he was just 5 years (Honda CR50 Elsinore) and ran for many years. Fred began building custom motorcycles in 2002 with his first bike 'The Racer'. Krugger Motorcycle pulled out three third places at the World Championships AMD (2004, 2005.2009). On this page we see one of his creations, based on Panhead engine, springer fork for a generally very old school and classic, rigid frame with a good rear tire diameter and large in contrast to the original historic motorcycles. Green vintage, and front number plate that resembles the motorcycle flat track of the 50's Meet the photos below.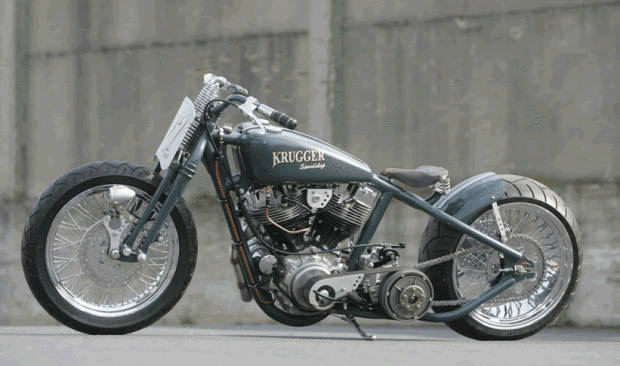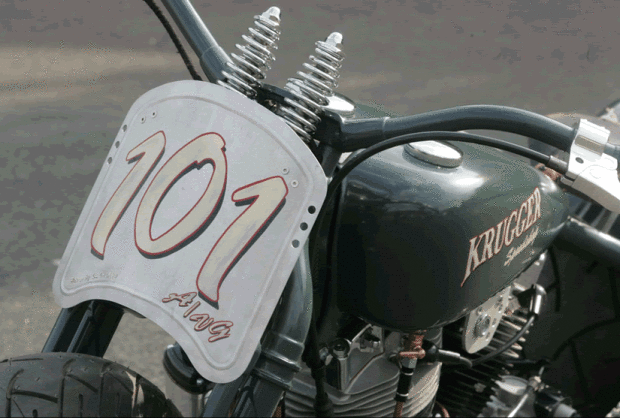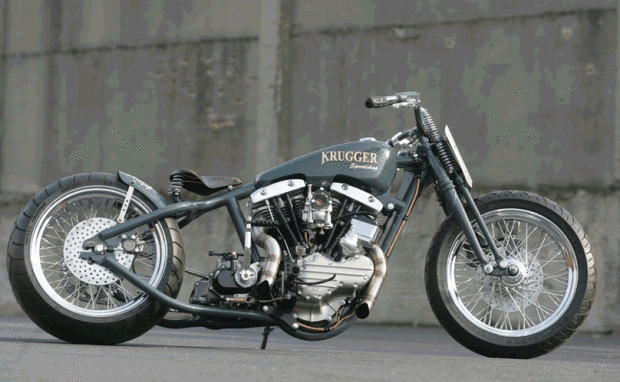 Blog Bobber Harley Davidson Kustom Kulture Mondo Kustom Moto Prima pagina Special bobber shovelhead, fred krugger, Harper, krugger motorcycles