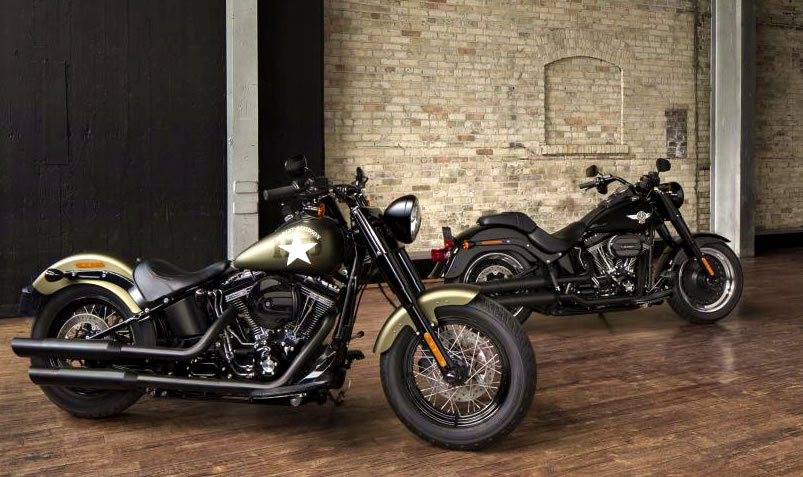 E' stato recentemente presentato il novo parco motociclette della mitica Harley Davidson, modelli nuovi che cambiano altri che rientrano, giusto per non annoiarsi mai.
E' stato diffuso in questi giorni anche il nuovo listino prezzi, dove alcuni modelli sono leggermente aumentati e altri (pochi) sono rimasti invariati di prezzo. Per la mitica famiglia Sportster ci sono Iron e la SuperLow ancora con motore Evo 883, poi la 1200 custom e la 72. Per la famiglia Dyna esce la Street Bob con motore Twin Cam 96, che lascia per il modello più potente il 103, scende un po di prezzo la LowRider, mentre inalterati la Wide Glide, Fat Bob e Switchback.
Nella Softail aumentano di 100 euro la Deluxe, Slim e Fat Boy ai quali viene affiancato il motore Screamin' Eagle da 110 c.i. con un costo un po più alto, bella la Slim con colorazione verde militare e stella bianca sul serbatoio. Nella grande famiglia Touring c'è il grande ritorno del Road King e vari cambiamenti di colorazioni e prezzi sugli altri modelli. Per la famiglia V-rod nessun cambiamento di rilievo.
In fondo alla pagina trovate il listino prezzi completo e ricordate che dal 2015 i prezzi H-D non sono più chiavi in mano e comprensivi di pieno di benzina, ma franco concessionario.
English version: HD was recently presented the novo park the legendary Harley Davidson motorcycles, new models that change others that fall, just not to get bored. It 'was prevalent in these days even the new price list, where some models have increased slightly and other (few) were unchanged in price. For the legendary Sportster Iron and there are still SuperLow engined Evo 883, then 1,200 custom and 72. For the family out the Dyna Street Bob with Twin Cam 96 engine, which leaves for the most powerful model in the 103 falls some of the price LowRider, while the unaffected Wide Glide, Fat Bob and Switchback. In Softail increase of the EUR 100 Deluxe, and Fat Boy Slim to which the engine is joined Screamin 'Eagle 110 there with a cost somewhat higher. In the great family Touring is the great return of the King Road and various changes of colors and prices on other models. For the family V-Rod no major change. Under the full price list and remember that in 2015 the prices are no longer HD turnkey and include Refueling, but ex-dealer.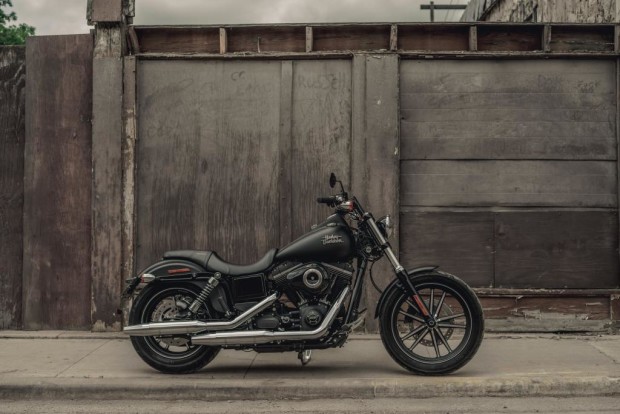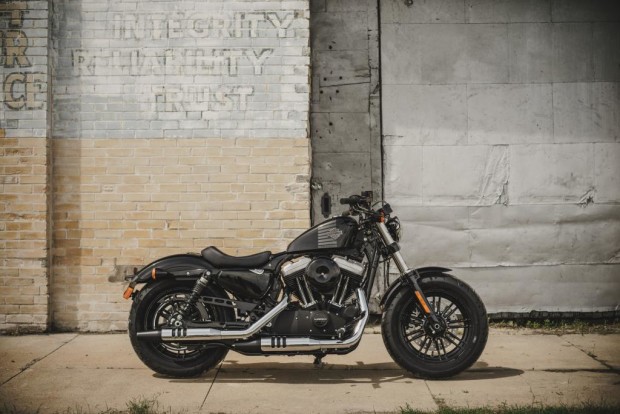 Gamma STREET (ABS NON DISPONIBILE)
Street 750
Vivid Black – 7.700 €
Pearl Denim Sunglo- 7.900 €
Street 750 depotenziata
Vivid Black – 7.700 €
Pearl Denim Sunglo – 7.900 €
Gamma SPORTSTER (ABS DI SERIE)
NEW Iron 883
Pearl Denim Sunglo – 10.200 €
Hard Candy Custom – 10.500 €
SuperLow
Vivid Black – 10.100 €
Pearl Denim Sunglo – 10.300 €
Two Tone – 10.600 €
SuperLow 1200 T
Vivid Black – 13.000 €
Pearl Denim Sunglo – 13.200 €
Two Tone – 13.500 €
Custom Color – 14.200 €
Sportster 1200 Custom
Vivid Black – 12.400 €
Pearl Denim Sunglo – 12.600 €
Two Tone – 12.900 €
Sportster 1200 Custom Limited Edition A
Two Tone – 12.900 €
Sportster 1200 Custom Limited Edition B
Pearl Denim Sunglo – 12.600 €
NEW Forty-Eight
Vivid Black – 12.500 €
Pearl Denim Sunglo – 12.700 €
Hard Candy Custom – 13.000 €
Seventy-Two
Pearl Denim Sunglo – 12.600 €
Hard Candy Custom – 12.900 €
Gamma DYNA (ABS DI SERIE)
Street Bob
Vivid Black – 14.900 €
Pearl Denim Sunglo – 15.200 €
Hard Candy Custom – 15.400 €
Two Tone – 15.600 €
NEW Street Bob Special
Pearl Denim Sunglo – 15.700 €
Low Rider
Vivid Black – 16.400 €
Pearl Denim Sunglo – 16.700 €
Two Tone – 17.100 €
Custom Color – 17.800 €
Wide Glide
Vivid Black – 16.900 €
Two Tone – 17.600 €
Fat Bob
Vivid Black – 17.500 €
Pearl Denim Sunglo – 17.800 €
Switchback
Vivid Black – 18.200 €
Pearl Denim Sunglo – 18.500 €
Gamma SOFTAIL (ABS DI SERIE)
Softail Slil
Vivid Black – 20.000 €
Pearl Denim Sunglo – 20.300 €
Two Tone – 20.700 €
NEW Softail Slim S
Vivid Black – 21.300 €
Pearl Denim Sunglo – 21.600 €
Breakout
Vivid Black – 21.500 €
Pearl Denim Sunglo – 21.800 €
Hard Candy Custom – 22.300 €
Softail Deluxe
Vivid Black – 21.500 €
Pearl Denim Sunglo – 21.800 €
Hard Candy Custom – 22.300 €
Two Tone – 22.200 €
Custom Color – 23.200 €
Fat Boy
Vivid Black – 21.900 €
Pearl Denim Sunglo – 22.200 €
Two Tone – 22.600 €
Custom Color – 23.600 €
Fat Boy Special
Vivid Black – 22.100 €
NEW Fat Boy S
Vivid Black – 23.300 €
Pearl Denim Sunglo – 23.600 €
Heritage Softail Classic
Vivid Black – 22.800 €
Pearl Denim Sunglo – 23.100 €
Two Tone – 23.500 €
Custom Color – 24.500 €
Gamma TOURING (ABS DI SERIE)
NEW Road King
Vivid Black – 23.900 €
Pearl Denim Sunglo – 24.200 €
Two Tone – 24.700 €
Custom Color – 25.600 €
Road King Classic
Vivid Black – 23.900 €
Pearl Denim Sunglo – 24.200 €
Two Tone – 24.700 €
Street Glide Special
Vivid Black – 26.400 €
Pearl Denim Sunglo – 26.700 €
Hard Candy Custom – 27.400 €
Custom Color – 28.100 €
Road Glide Special
Vivid Black – 26.700 €
Pearl Denim Sunglo – 27.000 €
Hard Candy Custom – 27.700 €
Custom Color – 28.400 €
NEW Road Glide Ultra
Vivid Black – 28.000 €
Pearl Denim Sunglo – 28.300 €
Two Tone – 28.800 €
Custom Color – 29.700 €
Electra Glide Ultra Classic
Vivid Black – 28.000 €
Pearl Denim Sunglo – 28.300 €
Two Tone – 28.800 €
Custom Color – 29.700 €
Electra Glide Ultra Limited
Vivid Black – 29.300 €
Pearl Denim Sunglo – 29.600 €
Two Tone – 30.100 €
Custom Color – 31.000 €
Electra Glide Ultra Limited Low
Vivid Black – 29.300 €
Pearl Denim Sunglo – 29.600 €
Two Tone – 30.100 €
Custom Color – 31.000 €
Gamma V-ROD (ABS DI SERIE)
Night Rod Special
Vivid Black – 18.400 €
Pearl Denim Sunglo – 18.600 €
V-Rod Muscle
Vivid Black – 19.300 €
Pearl Denim Sunglo – 19.500 €
Two Tone – 19.800 €
Gamma CVO (ABS DI SERIE)
CVO Street Glide
Two Tone – 38.900 €
CVO Road Glide Ultra
Two Tone – 40.800 €
CVO Ultra Limited
Two Tone – 41.300 €
Gamma Trike
Tri Glide Ultra Classic
Vivid Black – 37.100 €
Pearl Denim Sunglo – 37.300 €
Two Tone – 37.750 €
Custom Color – 38.800 €
Blog Harley Davidson Prima pagina Harley Davidson, listino Harley Davidson, modelli Harley 2016