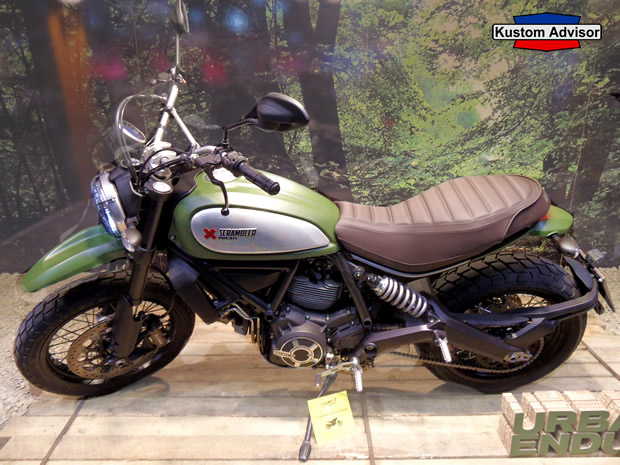 Ormai è stata presentata da qualche mese, abbiamo avuto modo di vederla dal vivo e provarla in varie occasioni, e manifestazioni direi che il tempo per farci un nostro giudizio è sufficente… Mio giudizio: a me non convince!
Questo è il semplice e sintetico commento che mi sento di fare. Vedo che la Ducati non perde occasione per promuoverla in tutti i modi con i loro container gialli che vediamo ormai ovunque e la scritta Scrambler che troneggia sulla fiancata, presentatori, veline e DJ famosi, adesso hanno ingaggiato anche alcuni customizer italiani per fargli creare una loro versione personalizzata (che vediamo anche nelle foto sotto) ovviamente per promuovere ulteriormente questo modello.
Non voglio immaginare la cifra spesa fin'ora in marketing e promozione di una moto che se fosse stata all'altezza delle aspettative credo si sarebbe sponsorizzata e diffusa in modo virale da sola. L'impressione che ho, da quel che si sente in giro e dalla quasi assenza di diffusione spontanea da parte degli appassionati di foto, commenti e pareri positivi, è che la moto presentata non è all'altezza di ciò che ci si aspettava e soprattutto di quel che rappresenta in molti di noi il modello storico originale Ducati.
Non voglio parlare del motore e delle prestazioni tecniche perchè almeno per questo dò per scontato che sia ottima visto la casa produttrice che ci sta dietro, ma direi che sia esteticamente ma ancor più toccandola con mano e sedendocisi sopra si ha l'impressione di una moto qualunque, quasi anonima e senza una forte personalità come ci si aspettava o meglio come hanno voluto farci immaginare in tutto l'anno scorso con importanti e misteriosi slogan carichi di grandi aspettative.
Questo è il mio modesto parere a qualche mese dalla sua uscita ufficiale, le moto che piacciono a noi sono moto vere, con anima e cuore che ti trasmettono qualcosa quando le guardi e ti innamori quanto ti siedi sopra, sono moto a modo loro che piacciono da se, che brillano di luce propria sono stelle e non una moto che di fatto è un prodotto di Marketing. Ma aspettiamo e vediamo come saranno i prossimi mesi quando il sole e la voglia di moto prenderà posto nelle nostre giornate… Controlleremo la classifica delle vendite.
English version: Now was made a few months ago, we got to see it live and try it on several occasions, and events I would say that the time to make us our judgment is enough. My judgment: I'm not convinced! This is the simple and brief comment that I would make. I see that the Ducati never misses an opportunity to promote it in all ways with their yellow container that we see now everywhere and written Scrambler that towers over the side, now they have also hired some Italian customizer to make it do a customized version (which we also see in the picture below) course to further promote this model. I do not want to imagine the amount spent so far in the marketing and promotion of a motorcycle that if it was up to the expectations I think it would be sponsored and spread virally alone. My impression, from what I hear around and near absence of spontaneous spreading from fans of photos, comments and positive opinions, is that the bike is not made up to what was expected and above reminiscent of that in the many historical model original Ducati. Aesthetically but even more by sitting above you get the impression of a motorcycle any, almost anonymous and without a strong personality as expected. This is my humble opinion a few months after its official release, the bikes that we like are real motorcycles, with heart and soul that you transmit something when you look at them and you fall in love as you sit on, are bikes in their own way like as if, that shine with their own light and stars are not a bike that is in fact a product of Marketing. But wait and see how they will be in the coming months when the sun and the desire to take the bike place in our days … We will check the sales ranking.