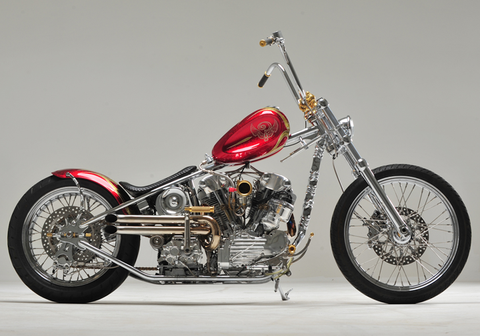 Ragazzi oggi mi gioco il jolly con questa Bloody Knuckle un bellissimo chopper realizzato dalla americana Indian Larry, non c'è bisogno di dire niente a riguardo direi.
Beh un mito, già il colore fa sognare con questo rosso sangue, luminoso e pulito come possiamo vedere bene nella foto del serbatoio con le fiamme in oro metal flakes e il logo con le inconfondibili pance verso l'interno, verniciatura by Robert Pradke Custom Auto Design.
Telaio ILM Twisted Down Tube con la loro tipica lavorazione sulla parte anteriore, il motore un mitico Knucklehead 93 ci che solo a vederlo incanta figuratevi anche a sentirlo, e poi la sua forcella da 39 mm, riser ottone tornito bellissimi old style, e un manubrio ape alto con manopole praticamente tutt'uno col manubrio… ragazzi qui siamo al top.
English version: Guys I play now the joker with this Bloody Knuckle a beautiful chopper made by American Indian Larry, there's no need to say anything about it really. Well a myth, already the color makes you dream with this blood red, bright and clean as we can see well in the tank picture with flames gold metal flakes and logo with the unmistakable bellies inward, painting by Robert Pradke Custom Auto Design. Twisted frame ILM Down Tube, the engine a mythical Knucklehead 93 us that just seeing him enchant even imagine to hear him, and then his fork 39 mm, riser turned brass beautiful old style, and an ape handlebar high with virtually all one knobs with handlebar … guys here we are at the top.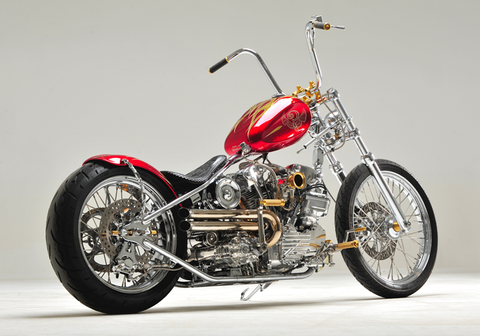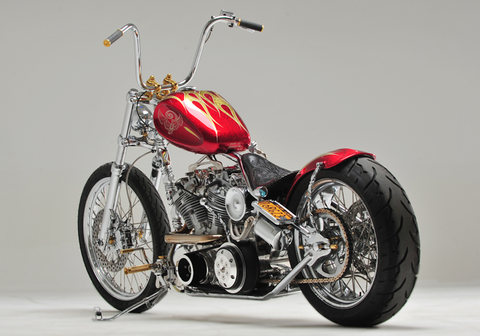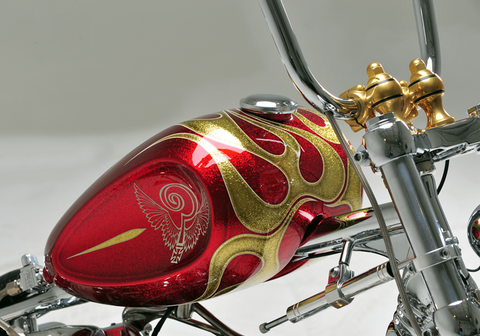 Blog Chopper Foto Kustom Kulture Mondo Kustom Moto Special Bloody Knuckle, chopper, Indian Larry, indianlarry.com