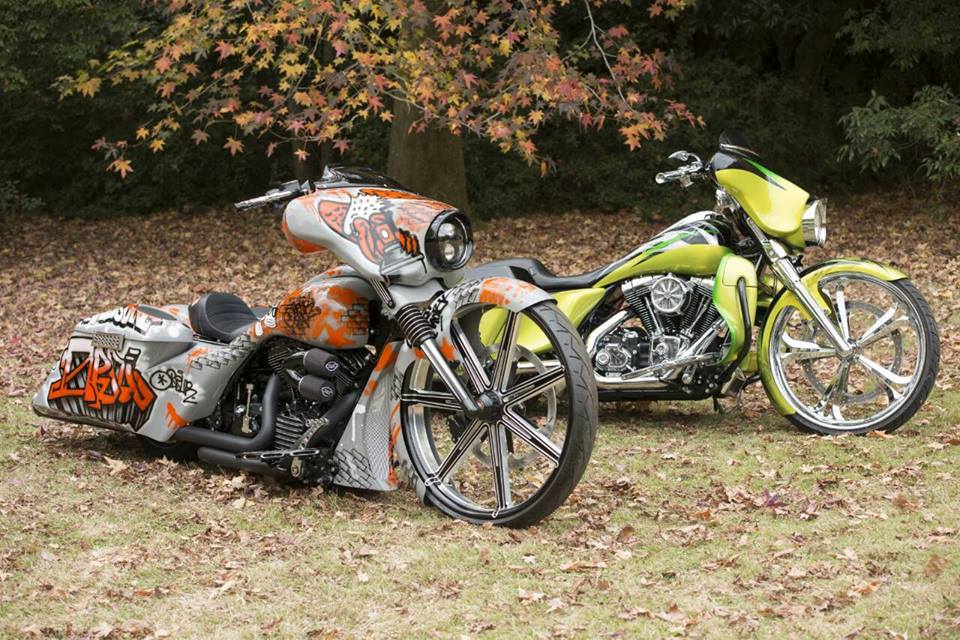 L'arte Hip Hop e i graffiti hanno influenzato non poco chi ha ideato queste due bagger particolari e originali.
Di solito si usa dire che le Harley sono dei cancelli con le ruote, per questi modelli è il caso di dire che sono 2 muri con le ruote visto che l'artista si è sbizzarrito con la vernice come fosse sulla parete di una palazzo metropolitano.
Cerchi anteriori da 26 come si usa spesso ultimamente per le bagger che vogliono stupire e borse posteriori esagerate e fascianti che terminano come una coda., sello molto low e tanti effetti scenici che non le fanno passare inosservate. Per chi vuole stupire…
English version: The Art of Hip Hop and graffiti have affected not just those who have created these two bagger special and original.
Usually they say that Harleys are the gates with wheels, for these models is appropriate to say that they are two walls with the wheels because the artist has been satisfied with the paint on the wall as if it were a palace underground.
Front wheels 26 how to use it a lot lately for the bagger who want to impress and rear bags exaggerated and clingy that end as a tail., Sello very low and many stage effects that do not go unnoticed. For those who want to impress …