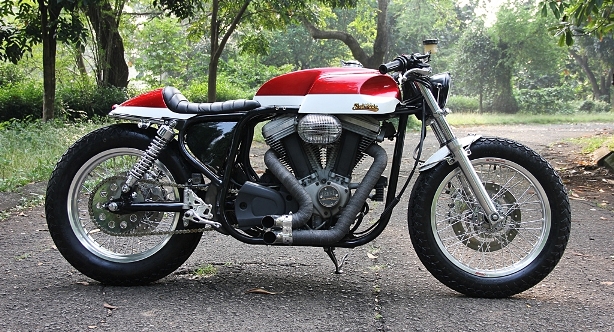 Ammiriamo questa bella cafe racer The Patriot una Buell Ulysses modificata da Studio Motor.
La base è un Buell XB12X del 2007 alla quale sono state apportate diverse modifiche come possiamo vedere dalle foto, in effetti è quasi irriconoscibile la moto originale, se non fosse per il mitico motore v-Twin.
Sono stati presi pezzi da varie moto, ad es. l'avantreno proviene da una Honda CB 400 SF, il serbatoio è artigianale e sta benissimo sul nuovo telaio dando una linea molto particolare. E' cafe racer inglesina perfetta anche se è nata in oriente nella bella Indonesia… chi l'avrebbe mai detto!
English version: We admire this beautiful cafe racer The Patriot a Buell Ulysses changed from Studio Motor. The base is a Buell XB12X 2007 which were made several changes as we can see from the photos, in fact it is almost unrecognizable the original motion, if it were not for the legendary V-Twin engine. They were taken from various pieces motion, eg. the front is from a Honda CB 400 SF, the tank is handmade and looks great on the new frame giving a very special line. And 'cafe racer inglesina perfect although was born in the East in the beautiful Indonesia … who would have thought!